High in The Adirondack mountain range (right outside Saranac Lake, New York) sits one of the region's oldest operating farms.

Gorgeous pre-1900 buildings grace the farm including a mid 1800's farm house, large barn and smaller milking barn.
OVER 100 YEARS OPERATING AS A FARM
Moonstone Farm and Forest has been in ongoing operation as a farm for over 100 years, providing fresh vegetables and forest products to the region.
Sometime after the survey for Revolutionary War veterans was accomplished in 1810, these lands began to be settled. The prospectors were looking for gold, but they found a moonstone mine. When tuberculosis was a rage in Saranac Lake, farming was important. The second barn was completed sometime after 1914 with modern milking operations and a milk storage building. Later another addition was added, presumably to house replacement stock in winter. The farmhouse was originally a small two story, then there was a fire. Soon after, the kitchen and its back room were constructed, then an addition, then another attached barn. The chicken coop is a direct effect of the 1914 book written for the aspiring chicken farmer, with this building design described.
Fences were built on the property boundaries, and have been dated to the 1920's. Then the big one came. During The Depression the property sold for taxes several times. In 1940 Percy Mullen had a very compassionate sister, and she bought the property and gave it to him. Mullen's store sold farm produce from his property in the store that is now a small motor repair, across from a Stewart's Shop in Saranac Lake. Ray McCasland had his eye on this property since he was a teenager. As Percy aged in place, he sold the property to Ray McCasland, in 1966. Ray and Agnes spent several years cleaning and modernizing the house and began living there in 1970. As these folks aged, their daughter Carolyn and Kim LaDuke began to help out a little. Soon after Kim LaDuke built a house next door and they were near the McCaslands when they were in need. In 1999 Kim & Carolyn LaDuke purchased the property from them and Ray and Agnes then spent the end time at the home, as they had always stated was their desire.
Kim and Carolyn purchased the llamas in 1999 and they have been an attraction since. The gardens north of the barn are raised beds, with soil added atop the soil to increase the normally thin, sandy soil in this region. The first high tunnel was a used and broken unit that Kim resurrected. Kim installed it atop a raised bed and began the barn store called "Moonstone Farm and Forest." The larger green house had its raised bed beneath it designed for the coming structure. There is some 30 inches of topsoil inside this tunnel in a region that is often pleased to have 4". The store started as a brick-a-brack and old things store with vegetables, and became a primarily vegetable stand inside part of the barn, with a self serve stand for the 24 hour customer.
In 2017, Erin & Jacob Vennie-Vollrath purchased the farm as Kim & Carolyn retired to Tennessee.
ADIRONDACK LIFE
The barn was featured on the cover of Adirondack Life magazine in 1992 – and in the Adirondack Life calendar in 2006.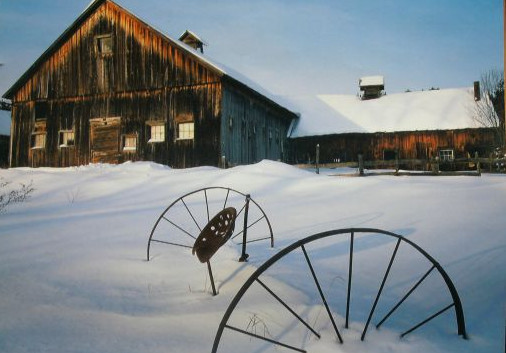 CAMP ROOM
Ray McCasland dreamed of having what he called an Adirondack Camp Room adjoining the house. Kim put significant work into it and Erin & Jake finished the room in 2018 – using reclaimed materials whenever possible.