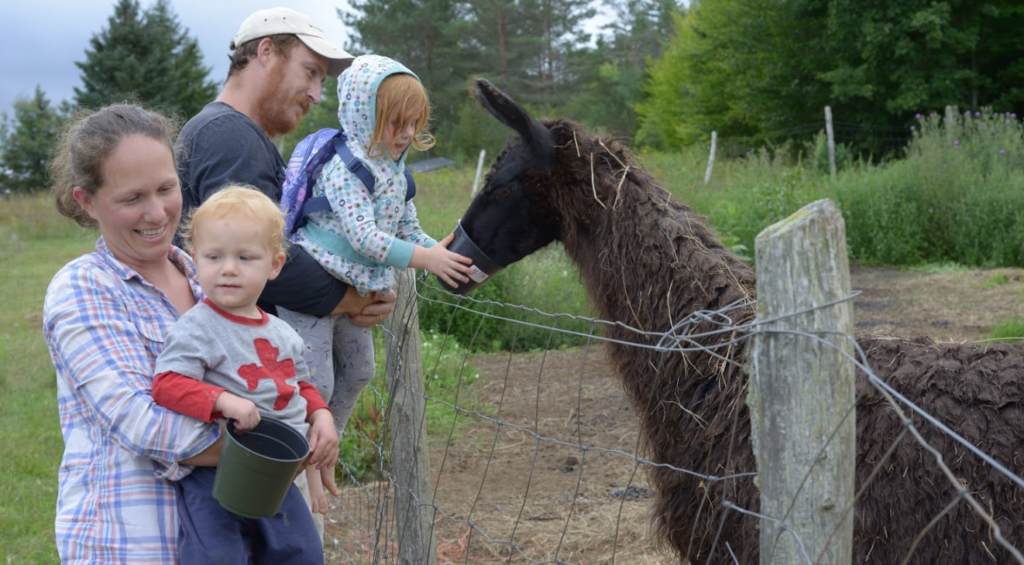 Moonstone Farm has had a long history in the Saranac Lake area. We have continued the tradition of growing, raising and producing the highest quality local food for our family, our friends, our CSA members, and our community.

---
Erin & Jake Vennie-Vollrath
We moved to the Adirondacks in 2014 from Wisconsin following a career move by Erin. We quickly fell in love with the area & its natural beauty… settled down, started a family, and in 2017 purchased the farm.
While we've had experience growing up and working on farms in Wisconsin and growing in Madagascar during our service in the Peace Corps nothing could have prepared us for farming in the Adirondack Mountains in what is often the coldest spot in the lower 48 states with some of the most unpredictable weather we've ever experienced.
Our first year on the farm was an eventful one… February brought us was felt like 2 weeks of -30 degree whether freezing pipes in the old farmhouse and in our well house… that first spring a 70 mph wind came off the mountain and tore the plastic off both our greenhouses losing 1/3 or our tomato crop… that same year we experienced a drought and record heat during the summer that had us pumping water from the Saranac River just to keep the plants satiated… the same summer the power would go out for hours multiple times shutting down our well pump, our greenhouse fans, and refrigerators resulting in loss of product and, at times, diminishing our will to go on. But the successes outnumbered the setbacks… we've grown from a 6 family CSA to a 20 family CSA. We've expanded from 2 greenhouses to 4. We've doubled our chicken flock, added goats & turkeys, and quadrupled the area we are cultivating. We've even added another member of our family through it all.
We've developed a reverence for these mountains, this climate, this farm, and the people who have called this place their home for generations.
We hope you consider visiting the farm and supporting your local farmers and producers.